When done selecting products to quote, click "Request Quote/Information" button. This will take you to check-out page to send quote request to IntelLiDrives
RTLA Automation Series of Rotary tables use a worm gear drive design with a heavy duty central rotating ball bearing.
The tables accept NEMA size 17 stepper motors. All tables have a clear aperture or clear and 360° visial scale.
- Load capacity 5 kg
- Stepper or servo motor driven
- 30 mm center aperture
- Precision bearing system
Click Below Images To Enlarge
ROTARY TABLE RTLA-30-100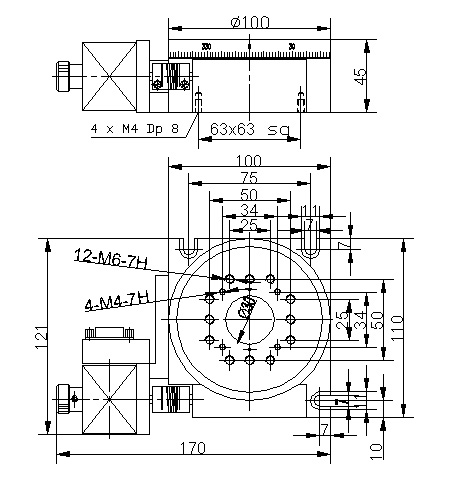 | | | |
| --- | --- | --- |
| Parameter | Unit | RTLA-30-100 |
| Worm gear ratio | | 180:1, 90;1, 45;1 |
| Max speed | rpm | 5 |
| Load axial | Kg | 5 |
| Repeatability (unidirectional) | arc-sec | 36 |
| Table weight | Kg | 1.8 |
| Clear Aperture | mm | 30 |
| Diameter | mm | 100 |
Motor choices:
- stepper NEMA17
- brushless servo/encoder
- SMART integrated motor with USB, RS232, Ethernet