Rotary table ACR-1040HT (High torque)
AccuRing rotary tables provide superior angular positioning and are designed to eliminate backlash, friction and wear problems associated with worm, gear and belt drives. Low maintenance and high throughput characteristics of the AccuRing stage yields the lowest total cost of ownership.
Compact package and Superior design of the AccuRing rotary stages was optimized to minimize stage height. The low profile of the stage reduces total system working height. Angular contact bearings are used to maximize performance with respect to wobble, moment stiffness and friction. AccuRing stage has large clear center aperture that can be used for air or wire line feed-through or beam delivery.
AccuRing utilizes direct drive three phase brushless motor technology. There are no brushes to replace and no gear trains or belts to maintain. Coreless magnetic design assures smooth rotation and dynamic performance.
Accurate Positioning is assured with contact-less encoder. The motor and rotary encoders are directly coupled to eliminate coupling backlash. The low inertia and zero backlash make AccuRing the ideal solution for applications requiring frequent directional changes.
| | |
| --- | --- |
| Semiconductor assembly | Electronics assembly |
| Precision machine tools | Robotic handlers |
| Wafer processing | Automation |
Click Below Images To Enlarge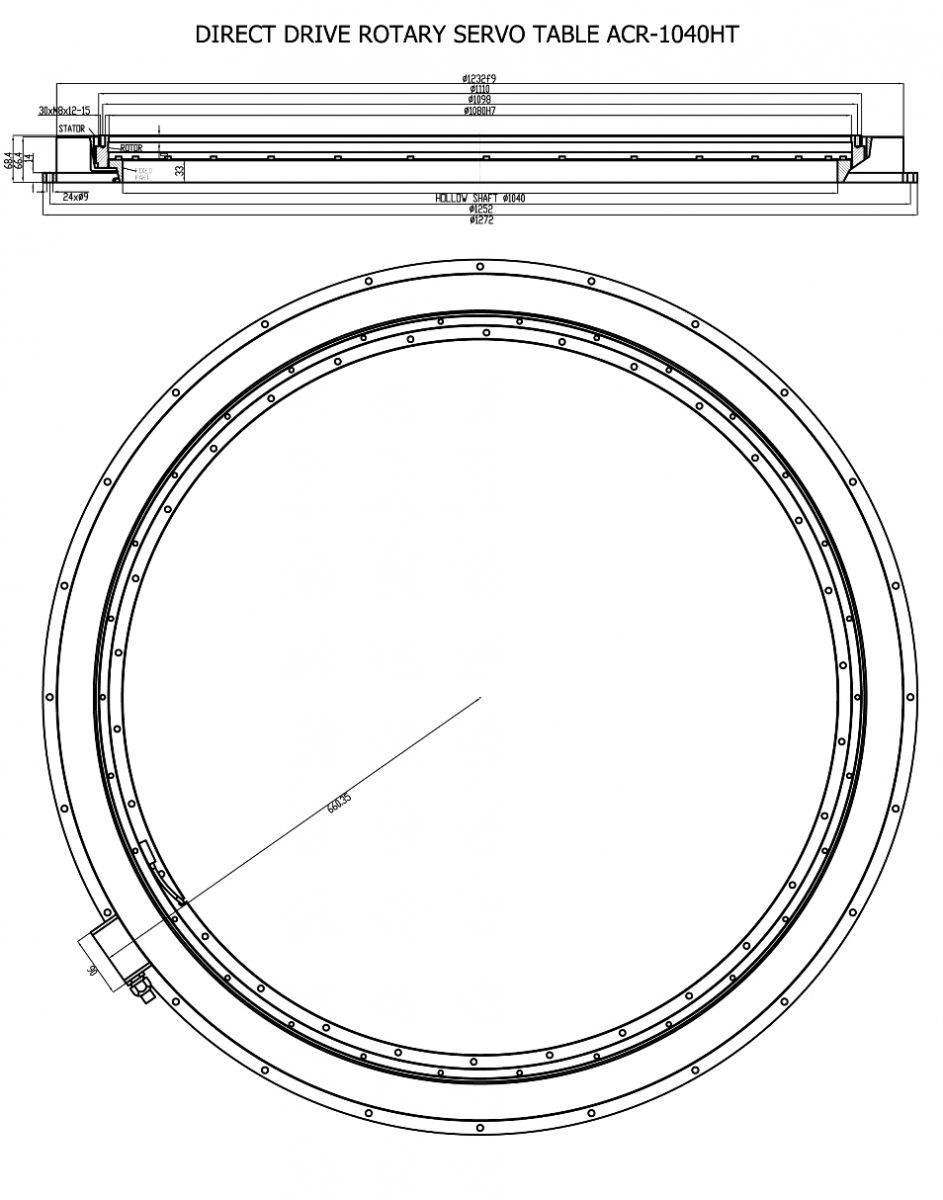 System Performance

Unit

ACR-1040HT

Center aperture

mm

1040

Outside diameter

mm

1232

Stage height

mm

68

Peak Torque

Tp

(Nm)

2622

Continuous torque

air cooling, coil 120°C

Tc120

(Nm)

1270

Peak current at Tp

Amp p rrms

39.3

Continuous current at Tc

Amp c rrms

14.4

Supply voltage (note 1)

Uvac

220-380

Max speed at Tp and Us

(note 2)

RPM

18

Max speed at Tc and Us

(note 2)

RPM

33

Positioning resolution

(note 3)

counts/rev

3,400,000 - 13,600,000

Positioning resolution

(arc-sec)

0.09-0.38

Accuracy

Arc-sec

<30

Repeatability

Arc-sec

<1

Run-out axial/radial

micron

<40

Rotor Inertia

kr x m2
4

Stage weight

M (Kg)

140

Load weight

M (Kg)

1000
Note 1: Rotary table can operate at lower voltages with lower speeds
Note 2: Speed values shown at rated torque
Note 3: Max speed may be limited by controller's encoder frequency input.
Sin/cos 1 Vpp and other encoder resolutions available.
Contact the factory.