IntelLiDrives Planar XY Table

offers the unique capability to operate two axes of motion in one plane with one motor.
These systems designed to replace conventional compounded XY tables, where one axis is being carried by another. As a result, Planar XY Table offers greater reliability and performance realized through design simplification and elimination of wear-prone components.
Planar XY Table consists of moving element called forcer which glides on the frictionless air bearings over the special "waffle-like "surface called platen.
Planar forcer contains two or four linear motoring modules oriented 90 degrees to each other.
As motoring modules respond to varying currents, forcer moves across the platen to produce continuous linear motion. Forcers can also be controlled in translation and rotation modes to perform XY and theta (couple degrees) motions.
For large rotational capability planar forcers can be integrated with RTH rotary tables and with Z lift motors.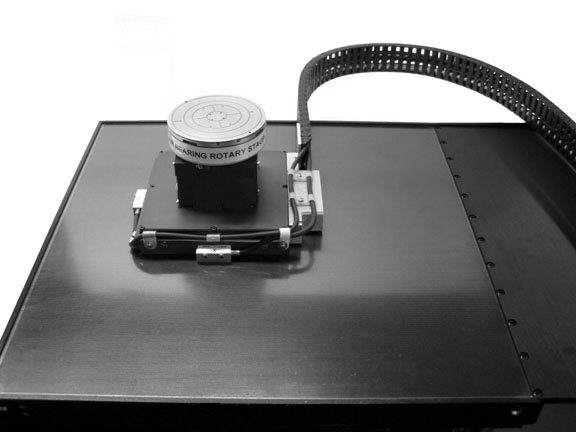 Planar forcers are compatible with standard micro-stepping drives and indexers. They can also be equipped with IntelLiCoder feedback and driven in closed loop.
Planar XY table can operate in any orientation (side wall, upside-down).
Multiple forcers can be installed and operated independently on a single platen for high throughput and flexibility in many robotic automation applications.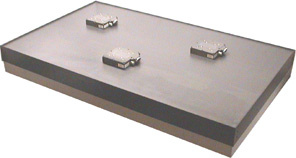 Planar XY Tables can be manufactured with an open center as open frame systems.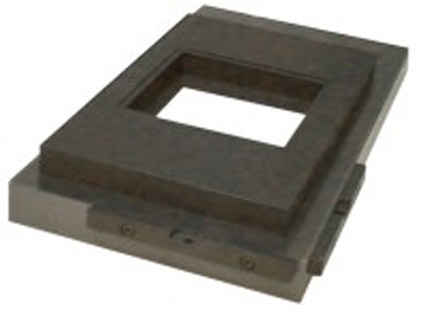 Click Below Images To Enlarge
Dimensions:
Forcers
Model

Width

A (mm)

Length

B (mm)

Height

C (mm)

Force

(N)

Feedback

option

FXY-115-115

115

115

23

30

No

FXY-155-145

145

155

28

75

No

FXY-185-155

185

155

28

75

Yes

FXY-320-175

320

175

30

140

Yes

FXY-380-370
380
370
48
350

Yes
Platens
Model

Width

X (mm)

Length

Y (mm)

Height

Z (mm)

PXY-350-200

115

115

23

PXY-400-400
400
400
45
PXY-500-400
500
400
80
PXY-600-230
600
230
45
PXY-660-535
660
535
50
PXY-730-535
730
535
50
PXY-850-850
850
850
80
PXY-1050-850
1050
850
120
PXY-1200-900
1200
900
100
PXY-1300-1000
1300
1000
120
PXY-2000-1000
2000
1000
200
Custom platens sizes manufactured upon request
Travel stroke ~ Platen Dimensions - Forcer Size
Two-axis XY motion in a single plane
Acceleration to 2g
Velocity 1 m/sec
High repeatability 3 µm
Resolution 1 µm
Accuracy 10 to 25 µm
Multiple forcers with overlapping trajectories on a single platen
Mount face up or inverted.
Lowest cost dual-axis positioning stage
Dimensions:
Forcers
Model

Width

A (mm)

Length

B (mm)

Height

C (mm)

Force

(N)

Feedback

option

FXY-115-115

115

115

23

30

No

FXY-155-145

145

155

28

75

No

FXY-185-155

185

155

28

75

Yes

FXY-320-175

320

175

30

140

Yes

FXY-380-370
380
370
48
350

Yes
Platens
Model

Width

X (mm)

Length

Y (mm)

Height

Z (mm)

PXY-350-200

115

115

23

PXY-400-400
400
400
45
PXY-500-400
500
400
80
PXY-600-230
600
230
45
PXY-660-535
660
535
50
PXY-730-535
730
535
50
PXY-850-850
850
850
80
PXY-1050-850
1050
850
120
PXY-1200-900
1200
900
100
PXY-1300-1000
1300
1000
120
PXY-2000-1000
2000
1000
200
Custom platens sizes manufactured upon request
Travel stroke ~ Platen Dimensions - Forcer Size