IntelLiDrives amplifiers and motion controllers are designed for a wide range of industrial automation applications. Our drives power linear and rotary servo and stepper motors in single axis, networked or multi-axes motion controllers installations in diverse applications such as industrial robots, vision systems, assembly machines, machine tools, semiconductor manufacturing equipment, electronic manufacturing and in a variety of other industrial control solutions. The drives and controllers are pre-cabled and pre-configured for a specific ordered motor or stage for turn-key out-of-box installation.
IntelLiGent Actuators
INTELLIGENT ACTUATORS are highly programmable, integrated actuators with a motor, encoder, amplifier, controller, USB, Ethernet, RS232, RS485 communication, and IOs.
Stepper Motor Drives
| | |
| --- | --- |
| Motor | Stepper two-phase linear/rotary |
| Voltage | 20 - 160 VDC; 110 - 240 VAC |
| Current | 1 - 10 Amp |
| Feedback | encoder digital |
Servo Motor Drives
| | |
| --- | --- |
| Motor | Brushless three-phase linear/rotary |
| Voltage | 20 - 160 VDC; 110 - 240 VAC |
| Current | 1 - 20 Amp |
| Feedback | encoder digital, sine 1Vpp |
IMAC Visual MultiAxis Controller
| | |
| --- | --- |
| Number of axes | 1 ... 32 |
| Motors | servo, stepper, linear, rotary |
| Communication | TCP/IP |
| Form factor | Din rail |
| Programming | Visual Block Programming |
IMAC Ethernet Motion Server
| | |
| --- | --- |
| Number of axes | 1 ... 32 |
| Motors | servo, stepper, linear, rotary |
| Communication | TCP/IP |
| Form factor | Din rail |
| Programming | VB, C, C++, C#, Python, JavaScript, Matlab |
IMAC MultiAxis Networked Drives
| | |
| --- | --- |
| Number of axes | 1 ... 32 |
| Motors | servo, stepper, linear, rotary |
| Communication | RS-232, USB |
| Form factor | Din rail |
| Programming | VB, C, C++, C#, Python, JavaScript, Matlab |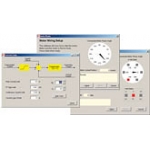 Software
Set-up, configuration, motion C++ libraries, motion COM objects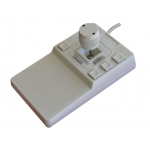 Joystick controls
Programmable and easy to use joystick for stand-alone control of up to three axes