IntelLiDrives manufactures a large selection of rotary tables including direct-drive tables that use brushless torque rotary servo motors, as well as precision motorized worm-gear and belt-driven rotary actuators. These rotary stages are available with many different size apertures, table diameters, and mounting options to provide the ideal solution for your industrial automation application. IntelLiDrives rotary tables are used in industrial robots, fiberoptics and photonics, vision systems, machine tools, assembly, semiconductor equipment, medical component laser machining, electronic manufacturing, and other high-performance industrial automation applications.
Direct Drive Rotary Table
Direct drive (DDR) rotary tables eliminate backlash and provide a stiff mechanical system for highly dynamic applications. Integrated with precision bearings and ring encoders, these rotary tables provide ultimate performance in rotary indexing applications
Geared Rotary Actuators
Motorized rotary tables incorporate an aluminum housing with bearing and precision ground worm or pinion gear drive. Multiple choices of gear reduction are available. Features no backdrive with minimum backlash. Supplied with stepper motors or brushless servo motor/encoder combination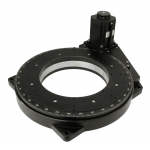 Belt Driven Rotating Actuator
High speed, large aperture and low profile motorized belt driven rotating actuators. Cost effective alternative to direct drive rotary servo tables. Supplied with NEMA23 stepper or brushless servo motors with encoders
Rotary tables+Absolute Encoders
Rotary tables incorporate ABSOLUTE RING ENCODERS with industry standard SSI, BISS-C and Fanuc interfaces. Absolute positioning information is maintained during power-down. No homing required upon power-up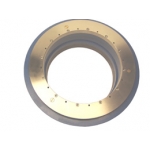 Large Aperture Rotary Table
Rotary tables with aperture (center hole-through) sizes from 110 to 490 mm. Available with direct drive motors, worm gear or belt drive mechanisms
Low Profile Rotation Stages
Low profile rotation stages 22 to 42 mm. Light-weight and compact, these rotary actuators are best suited for integration with XY tables to minimize system stack-up height and errors
Air Bearing Rotation Stages
Direct drive air bearing rotation stages with axial and radial air bearings. Frictionless and maintenance-free rotary tables best suitable for cleanroom environments
IP rated rotary tables
Rotary tables with protection against ingress of water and particles. IP65, IP66 and IP67 rated. Direct drive rotary servo tables and motorized actuators
Compact Rotary Stages
Low profile and small footprint (40 mm to 115 mm) rotary stages. Designed for the confines of laboratory and production environment. Available in vaccum compatible versions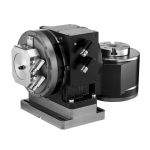 Multi-Axes Rotary Systems
Integrated two- and three-axes rotary assemblies for machining and testing complex 3D part geometries
IntelLiGent Rotary Actuators
INTELLIGENT ACTUATORS are highly programmable, integrated actuators with a motor, encoder, amplifier, controller, USB, Ethernet, RS232, RS485 communication, and IOs.