IntelLiDrives, Inc. manufactures a large selection of linear actuators that utilize direct drive brushless linear servomotors, linear stepper motors as well as precison ball screw actuators driven with brush, brushless or rotary stepper motors. Travels for these linear actuators range from 5 mm to 5 meters. These stages are utilized in industrial robots, fiberoptics and photonics, vision systems, machine tools, assembly, semiconductor equipment, medical component manufacturing, electronic manufacturing, and other industrial automation applications. Please browse our linear actuators below. Linear actuators are also available in XY, XZ and XYZ configurations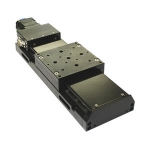 Screw Driven Linear Actuators
Screw-driven linear positioning stages offer superior positioning performance in a compact, low profile unit. Offered in Automation Series with ball screws for high speed dymanics and Miniature Series with micrometer grade lead screws for ultra fine positioning performance. Driven with stepper or brushless servo motor
Belt Driven Linear Actuators
Belt drive linear positioners are designed to rapidly shuttle payloads to multiple locations. These economical linear actuators achive 3 m/sec speeds with 100 microns repeatability. In extruded aluminum housing driven with stepper or brushless servo motor with optional gear box
Linear Servo Motor Actuators
Linear Servo Motor linear actuator is pre-engineered, easily mounted, plug-and-play, ready-to-run modules that combine direct drive linear motor technology to provide 3G acceleration, 5m/sec velocity and sub-micron repeatable positioning. They combines linear motor with precision linear encoder and bearing support system
High Frequency Linear Actuators
Linear actuators with direct drive linear brushless servo motors offer high rigidity and high acceleration capabilities, The motor has very low electrical time constant and zero hysteresis. These actuators developed for the high-frequency motion of short strokes.
Compact Linear Actuators
Precision actuators with ball screws and leadc screws provide exceptional accuracy, repeatability and ultra-fine positioning resolution capability to 0.1 micron in a very compact, low profile unit. They are ideal for space-critical applications
Moving Shaft Linear Actuators
Moving Shaft Actuators are direct drive linear servo motors or motorized screws actuators with moving center shaft. These actuators have short working stroke 5 to 200 mm with high resolution and allow user precision positioning and force controls.
IntelLiGent Actuators
INTELLIGENT ACTUATORS are highly programmable, integrated actuators with a motor, encoder, amplifier, controller, USB, Ethernet, RS232, RS485 communication, and IOs.