News - Pipetting Made Easy (Universal XYZ Robot for Pipetting Ap
PIPETTING MADE EASY
UNIVERSAL XYZ ROBOT for MICROSCOPY and PIPETTING APPLICATIONS
Manual pipetting is a time-consuming process that can lead to repetitive stress injuries. Automatic pipetting involves the use of robots to perform this type of tedious bench work, allowing scientists more time to design experiments and analyze data.
Overview
"Pipetting" refers to the use of pipettes, which are laboratory tools commonly used in biology and chemistry. They're generally used to dispense a measured volume of liquid, although a pipette's specific design can vary considerably from single pieces made of glass to complex devices that use electronics. Many types of pipettes draw up the liquid by creating a partial vacuum above the chamber that holds the liquid. A pipette's accuracy and precision primarily depends on its design.
Automatic Pipetting
Manual pipetting is often complex and inefficient, leading to increased preparation time, training requirements and operational costs. This process also increases the chances of procedural errors in an experiment.
An automated pipetting system generally transfers liquids between pre-selected containers in a programmed sequence. They're also known as liquid-handling robots, especially when they include other components such as laboratory shakers and microplate washers in addition to pipettes. The ability to increase throughput and reproducibility is one of the primary advantages of liquid-handling robots.
These robots dispense liquids into containers such as tubes and wells. They're often integrated into other systems such as liquid chromatographic systems, typically as automated injection modules. In addition to saving valuable time for scientists, liquid-handling robots are especially useful for preparing samples more precisely in applications requiring high-throughput in complex sequences. They may also be used for weighing samples in liquid and powder form as well as performing many types of biological and chemical assays.
These systems may contain additional components for feeding samples into heating and cooling systems, typically for the purpose of thermal cycling. Their physical construction may also allow them to easily integrate into peripheral lab-ware. For example, a liquid handler can be fitted with robotic arms that the user can program to manipulate external lab-ware, further enhancing the robot's uses. Other features of automated liquid-handling robots include start/stop functions and the ability to coordinate the steps in a sequence, which is especially useful when performing assays.
Pipetting Robots Configurations
XYZ robots are automated liquid-handling platforms that provide a range of solutions for preparing samples. They provide a common platform that allows scientists to easily share protocols and reproduce results. These robots automate experiments that scientists would otherwise need to perform manually, allowing them more time to answer important questions.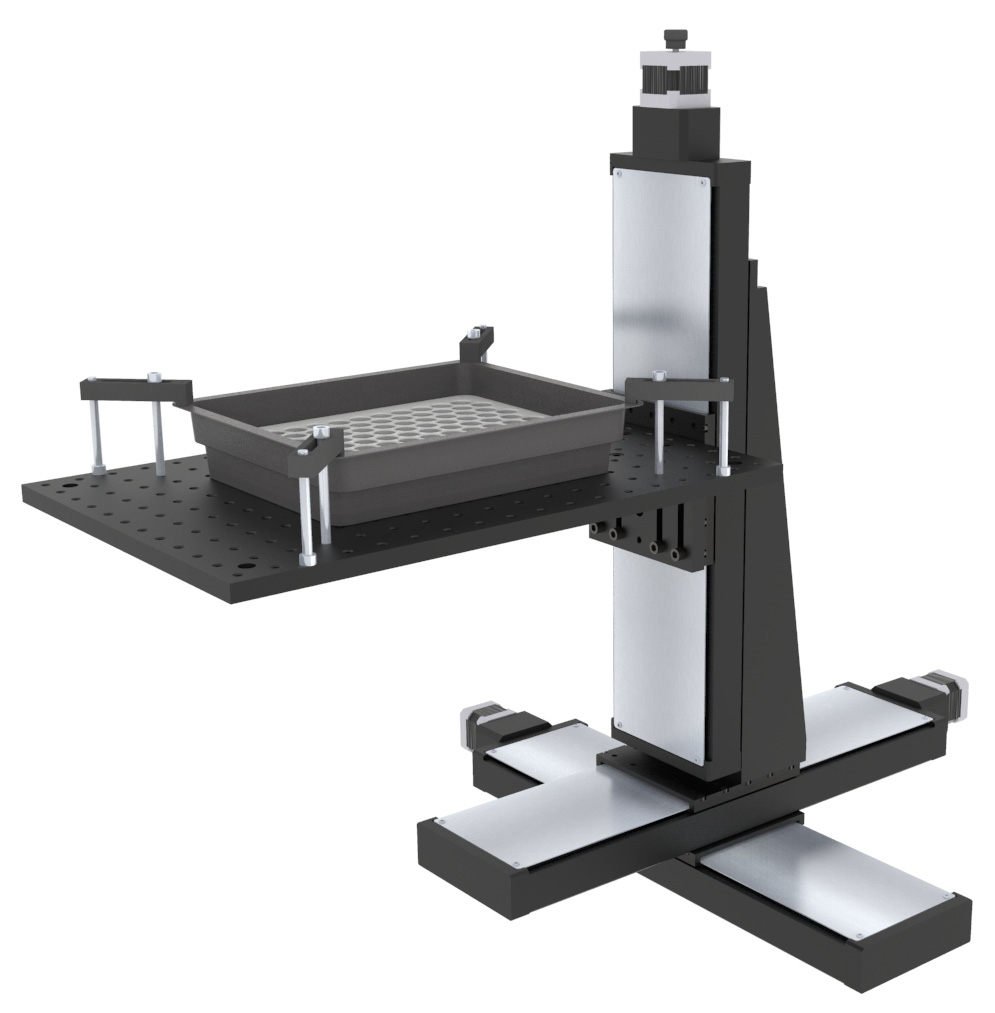 IntelLiDrives XYZ robots support interfaces to external I/O devices such as fluid pumps. An adaptor is also available for the XYZ robot that allows it to hold a Society for Biomolecular Screening (SBS)-standard multi-well plate. This system allows the user to perform pipetting applications such as automated microscopy with a high degree of resolution and repeatability. Pi
The user can also change the placement and orientation of individual devices to provide a variety of configurations, and one stage can even be removed entirely to create an XY setup.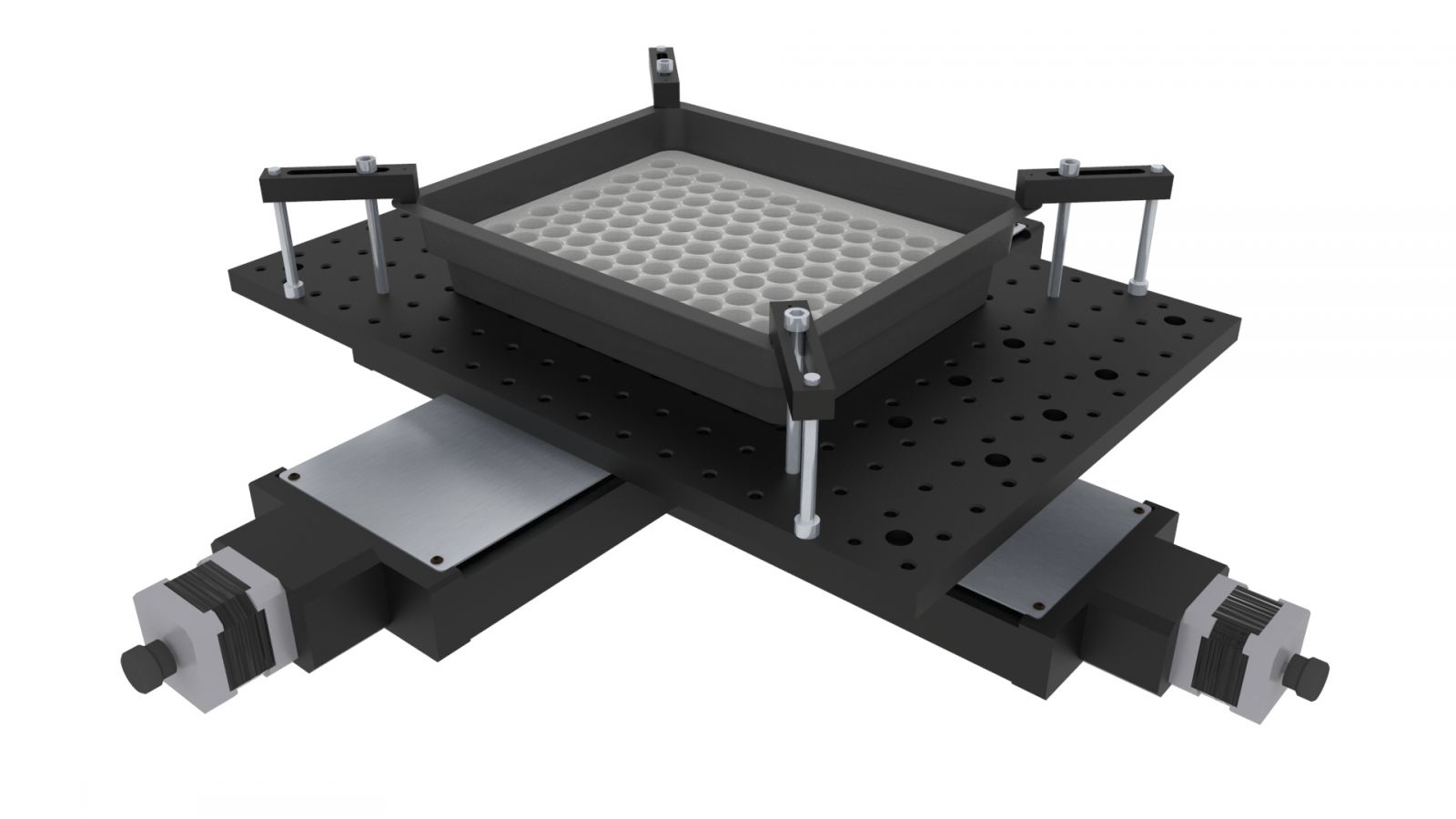 Robot Programming

Users programs pipetting sequences, using GUI (graphical user interface) with icon-based programming or writing sequence scripts with a VB-like language. No programming experience required to create complex pipetting sequences with interfaces to external pumps and other labware hardware.


USB interface and ability to receive/execute in real time commands over the USB port, allows robot to be integrated into complex laboratory automation systems.

www.intellidrives.com